Ergonomics is the science of matching the work to the worker. Proper ergonomics helps prevent injuries, decrease muscle stress and can reduce absenteeism. The following simple adjustments can ensure that your workstation is a good fit for you!
Is Your Chair Comfortable?
Chair should be adjustable while you are sitting in it.
Back of chair should be adjustable in height to provide good lumbar support while offering upper back support.
If there is a space between your lower back and the chair, increase the lumbar support if available on the chair, or try a lumbar support.
Seat pan may need to be angled to ensure sitting back in the chair so that your back is supported. This avoids the tendency to perch. Perching results in poor back support.
When sitting, your knees should be level with (or slightly above) your hips.
Feet should be flat on the floor. An (adjustable) footrest may be needed for proper positioning.
Armrests should be adjustable in height for proper arm positioning. Make sure they are used to rest your arms when taking a break from working. They should not be used while keying because this often leads to poor arm and elbow positioning.
Where are your arms?
Upper arms should be positioned close to your torso with elbows at approximately 90-120 degrees when using the keyboard and mouse.
Wrists should be in a neutral (straight) position; not bent up or down.
Where is your mouse?
Position the mouse so that it is next to the keyboard at the same level.
Wrists should be in a neutral (straight) position while mousing.
Use your whole hand while mousing to prevent repetitive stress injuries, such as carpal tunnel syndrome.
The monitor
Ideally, the monitor should be in front of you and not off to the side.
The monitor should be arms-length away from you in sitting.
The top of the monitor should be at eye level. If you wear bifocals, the monitor may need to be slightly higher than normal so that you can look through the bifocals without having to look up and cause neck strain.
A document holder placed at eye level and next to the monitor can prevent neck and eye strain.
Do your eyes get tired?
Proper positioning of the monitor can reduce eyestrain.
Look away from your monitor regularly. This helps to reduce eyestrain.
Eliminate glare by positioning your monitor at right angles to a window.
Task lighting can further reduce glare.
Covers on fluorescent lighting help to reduce glare.
An anti-glare monitor screen may reduce glare but may make characters on the screen less clear and hard to read.
Other tips
Pacing is important. Micro breaks (every 20-30 minutes) help prevent fatigue and reduce repetitive strain injuries.
Stretching reduces muscle fatigue.
Place frequently used items in a comfortable arc in front of you. Avoid over-reaching and twisting.
Pace yourself during the day to minimize fatigue. Alternate tasks.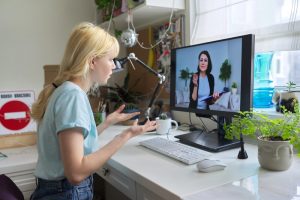 Almost three years into the Covid-19 pandemic and we are still feeling its impact. Life has returned to ...
Read More

→