It seems natural that after operating ERGO-Wise for the past 20 years in Ottawa I reflect on this time and what it has meant to me. Of course, I am amazed that 20 years has passed and ERGO-Wise is still providing occupational therapy services primarily focused on mental health and return-to-work.
I am proud to say that ERGO-Wise has maintained a highly respected name within Ottawa and within the disability insurance realm. I am humbled when I am told that I am sought after because of my reputation as an occupational therapist, my treatment approach and treatment outcomes.
Let's take a step back and look at the birth of ERGO-Wise. When I moved to Ottawa from Montreal in 1998, I had not practiced in my field for a few years. I thought that my career as an occupational therapist (OT) was over until I met a physiotherapist in Ottawa who challenged my thinking and asked me why I was willing to give up so quickly and throw away my education and experience. She got me thinking so I looked into what I would need to do in order to practice in Ontario.
The College of Occupational Therapists of Ontario (COTO) outlined the steps I needed to complete for an Ontario registration and I then embarked on the journey to establish my occupational therapy credentials in Ontario. I needed a certain number of clinical currency hours so I reached out to a few occupational therapists in Ottawa and started working with them. Many clinical hours later, I met the requirements set out by the College and was accepted to COTO in June 2000. And that is when ERGO-Wise was born.
While making up my currency hours, I had met an OT in a major insurance company who identified a need within the disability sector. Many of her plan members had been off work due to a mental health disability and she could not find an appropriate treatment to help them return to work. This insurance-based OT was interested in collaborating with me as she recognized that the skill set of an OT would be ideal to address this gap. Our collaboration included a needs analysis that paved the way for program design to meet the unique challenges of this population. Cognitive work hardening (CWH) emerged from this collaboration which I have been developing and adapting to prepare people to return to work after a mental health disability such as depression. Applying the principles of classical work hardening, an evidence-based treatment for return-to-work, has enabled me to pioneer an intervention targeted specifically to the mental health population and their unique needs.
I opened ERGO-Wise in June 2000 by taking a chance – a calculated risk! I knew very few people in Ottawa and less within the therapy realm and insurance industry. Nonetheless, I opened my private practice and started offering occupational therapy services. As I launched my clinical practice, I also had to take on the role of marketing person to promote my practice, to promote myself as a service provider, and to promote my newly developed CWH intervention. This was definitely a learning curve as I wore several hats in order to move my practice forward.
In 2009, building on the success I had achieved thus far, I took another leap! I started a PhD program at Queen's University with the intent of rigorously studying the CWH program I pioneered in order to build on the already evidence-based work hardening intervention by studying it within the mental health realm; specifically, following an episode of depression. Another learning curve, for sure. This time a very steep one! Returning to school as a mature student, resuming the student role after being a clinician in the field for many years, undertaking research which was totally new to me, and learning about data analysis, statistics, proposal and thesis writing! Six years later I completed this undertaking and proudly received my PhD in Rehabilitation Science.
My doctoral research supported the role that CWH plays within the return-to-work process and augmented the many anecdotal stories I had heard over the years about the value of CWH. I have shared my research through several academic publications and speaking forums.
What's next? After 20 years, I am asking myself where do I go from here? Yes, I am ready for another challenge with yet another learning curve. This time the curve is in the form of knowledge transfer within the field of occupational therapy. I plan on training other occupational therapists in CWH so that more therapists understand the theoretical underpinnings of this intervention and can offer this intervention to help more people. My goal: to make CWH mainstream.
I am now working on the best way to provide this knowledge transfer. It will no doubt involve learning about modern technology that can help me toward my goal. It will likely pull me outside my comfort zone, yet again, but I am up for the challenge. I have done it several times before and I can do it again. That is how I grow, that is how we all grow.
Let me share what I have learned from my past 20 years: set goals, trust yourself, take (calculated) risks, and don't be afraid to move beyond your comfort zone. Ask for help when you need it (I certainly did) and educate yourself so that you can indeed climb that learning curve.
Think positively. Don't let challenges keep you in a negative mindset. Don't let naysayers hold you back. Look beyond the current challenge. Use your positivity to problem solve and think outside the box.  After all, that is what life is all about.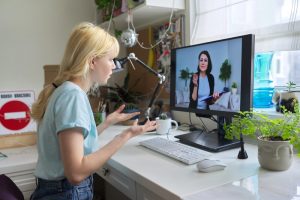 Almost three years into the Covid-19 pandemic and we are still feeling its impact. Life has returned to ...
Read More

→