Negative thinking begets negative thinking. We each have an inherent way of viewing the world and of reacting to events and people around us. Each of us has a set of messages that we play over and over in our minds which constitutes our internal dialogue and frames the way we tend to react to the world.
Much of our internal dialogue is rooted in our past through messages we received growing up such as negative comments which we have internalized and have impacted our self-image and how we react to life. Typically, this translates into negative self-talk with harmful consequences to our self-esteem and potentially to our relationships.
The key to improving our outlook is to reframe our thinking so that negative thoughts are substituted with positive self-talk so that we do not continue to see ourselves as 'bad', 'worthless', or 'unworthy' which reinforces feelings of anger, guilt, fear, and/or depression. Rather, we 'rewrite' our thinking and find ways to view a situation in a more positive way.
Positive self-talk helps with self-esteem and confidence and can give you a sense of more control of your life and less hopelessness. Another person can help us reflect on a situation and help us see ourselves in a more positive way. This may include working with a professional therapist, counsellor, or a friend who can reflect back to us and help us reframe our thinking with a view towards us doing this more naturally on our own.
Positive self-talk is a strategy that helps us better manage stress and can reduce anxiety. Positive self-talk increases positive energy around us which can increase our productivity and self-esteem.
Here are some examples:
EXAMPLE 1:
Negative thought: I'm so stupid. I don't understand how this software works.
Reframed positive thought: This software is new to me. I'll ask someone to explain it to me so that I understand.
EXAMPLE 2:
Negative thought: I'm such a klutz. I can't catch a ball!
Reframed positive thought: I may not be an athlete but I can dance quite well.
EXAMPLE 3:
Negative thought: My life is miserable … everything is crap.
Reframed positive thought: I enjoy yoga. I'm going to go to do some yoga – that always makes me feel better.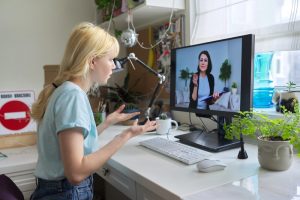 Almost three years into the Covid-19 pandemic and we are still feeling its impact. Life has returned to ...
Read More

→