I am often confronted about my focus on safety. Someone chooses to point out my 'preoccupation' with safety. Someone chooses to call me 'risk averse'. Someone else chooses to ridicule me. Someone else chooses to describe me as 'coddling'.
I listen. I ponder the comments and I wonder what it all means. Sure, we all have our levels of comfort when it comes to safety and when it comes to taking risks. Personality? Maybe. Is it because I am a mother and as mothers we tend to worry about these things (some father do too!). Probably. Was I brought up in a family that was particularly focused on safety? I don't think so.
So, what's it all about? When I sit back and think about it I realize that I am an occupational therapist and I identify so much with this role. Does that have something to do with it? Very likely!
Occupational therapists are trained to promote health and well-being. We are trained to enable our clients to engage in meaningful activity in the hope that their quality of life improves. Our focus is on helping clients participate in their daily occupations and/or activities. In order to apply these basic occupational therapy principles in our day-to-day practice we must ensure that our clients are safe so that they can carry out their chosen activity / role function in as independently a fashion as possible. So maybe my training as an occupational therapist has something to do with my focus on safety.
Occupational therapists are expected to apply their professional expertise to observe, to monitor, to assess, and to problem solve. We do this with whomever we work with and in whatever clinical domain we are in. This includes:
Children – be aware of potential risks in activities such as cycling/tobogganing and the potential for accidents with resultant risk of head injury. We promote wearing a proper-fitting helmet because taking this safety measure has been known to reduce the risk of serious injury such as concussion, brain injury, and even death.
Children – ensure the safety and well-being of children and provide advocacy and protection for the child at risk.
People with a mental illness – ensure people with mental illness are safe at home, at school, at work, and in the community and provide necessary support.
Home safety – assess if there are any risks in the home that may lead to falls and risk a person's functioning and independence and recommend home modifications to adapt living spaces in order to increase usage, safety, security, and independence.
Seniors – support older persons' health and safety as they age through home modifications, provide targeted dementia care, and offer supports for caregivers.
Driver safety – determine if a person's functional deficits put at risk a person's ability to drive through screening the at-risk driver.
Health & safety at work – conduct risk assessments, identify hazards in the workplace and the associated risks, and eliminate or reduce the level of risk to employees through the introduction of adequate control measures.
Workplace ergonomics – identify all elements of risk and hazard that may be associated with the tools used on a job, the physical layout of the workplace, the environmental factors that affect employees' performance, and the physical, cognitive and psychological demands of a job and then make recommendations regarding physical injury prevention through the modification in work methods, body mechanics training, job task rotation and stretching exercises as well as promoting psychologically healthy workplaces.
An occupational therapist evaluates balance, coordination, endurance, safety awareness, strength, attention, problem solving, vision, communication, and many other functions while the individual performs daily tasks in order to promote function, engagement in meaningful activity, and independence.
Yes, I see potential risks. I see potential hazards. I see potential pitfalls. But I choose to frame this way of thinking as positive. My REAL focus is on mitigating risk so that engagement in meaningful activity continues, independence is maintained, and life enjoyment ensues.
Each profession brings its own skill set, abilities, and frames of reference. Perhaps we can accept the unique skills and knowledge of occupational therapists. Isn't this part of accepting each other for who we are?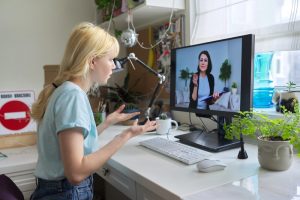 Almost three years into the Covid-19 pandemic and we are still feeling its impact. Life has returned to ...
Read More

→